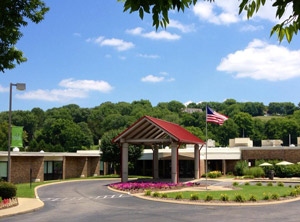 Situated among the rolling, green hills of southern Middle Tennessee, the historic town of Pulaski combines old-fashioned Southern charm with warm hospitality to create a family-friendly community. Pulaski is the county seat of Giles County, featuring high winding ridges in the north and the fertile valleys of Richland Creek and the Elk River in the south.

STRHS-Pulaski is a Joint Commission-accredited, 95-bed facility providing complete clinical services with modern technology. Services offered by the hospital include a 24-hr. physician-staffed Emergency Department, LDRP-equipped Obstetrics Unit. Radiology services include Nuclear Medicine, CT, MRI and Digital Mammography.
Other services include Community Education, Bone Densitometry, ENT, Surgery, Laboratory, Nutrition Counseling, Occupational Therapy, Physical Therapy, Patient Education, Industrial Safety Medicine, EKG/ EEG, Cardiac Rehab, Pharmacy, Sleep Studies, Pediatrics, Respiratory Therapy, Laparoscopic/Laser/Day Surgery, Stress Testing/Pulmonary Function, Diabetes Center, a six-bed Invasive ICU, Endoscopy, Gastroenterology, Heliport/Lifeflight, Ophthalmology/Cataract Surgery and Orthopedics.
Mission, Vision and High Five Guiding Principles
Mission
Making Communities Healthier®
Vision
We want to create places where:
people choose to come for healthcare
physicians want to practice
employees want to work
High Five Guiding Principles
Delivering high quality patient care
Supporting physicians
Creating excellent workplaces for our employees
Taking a leadership role in our communities
Ensuring fiscal responsibility

Accreditation
Joint Commission accreditation addresses all complaints that pertain to patient safety or quality of care issues within the scope of Joint Commission standards. The Joint Commission has a toll-free hotline number that gives patients, their families, caregivers and others an opportunity to share concerns regarding quality of care issues at this accredited hospital.

The toll-free number is 1-800-994-6610, or visit http://www.jointcommission.org/.